My Brokk is the game-changing online portal that gives you full control of your Brokk robot. The new portal combines multiple services into a single resource, including Brokk Connect, a technical documentation library, and a webshop. This gives you the freedom to obtain information on your robot or entire fleet, wherever you are and whenever you need it.
Through My Brokk, you can access Brokk Connect, the on- line platform designed to simplify control and care of your Brokk robots. The software enables you to monitor and manage your entire robot fleet, with precise information of every activity and service requirement, hour by hour. The updated version of Brokk Connect is now further improved with news like Wi-Fi connection and an offline mode.
The practical documentation feature gives you easy access to manuals, technical data and other useful information. Our new webshop is based on our unique products and specifically tailored to our customers' needs. It allows you to order original spare parts quickly and efficiently directly from your local Brokk dealer. All to ensure maximum uptime.
This is an overview of My Brokk's services and major benefits.
BROKK CONNECT
Know your robot. Interpret data and follow the activities of your robots in real time, to make better and more informed decisions.
Access information. Make jobs more efficient by using information about tool time, operating hours, robot locations and current status.
Analyze and optimize. By analyzing available data, you can increase productivity, optimize planning, usage and quotations.
Service notifications. Brokk Connect lets you know when it is time for service, giving you the benefit to work proactively to make sure your robot is always ready for the next job.
New! Connect to Wi-fi. The new and updated version of Brokk Connect gives you the opportunity to connect the robot to Wi-fi.
New! Offline mode. Brokk Connect saves data in a gateway if the robot is temporarily without mobile connection or Wi-Fi and uploads the data when it is back online.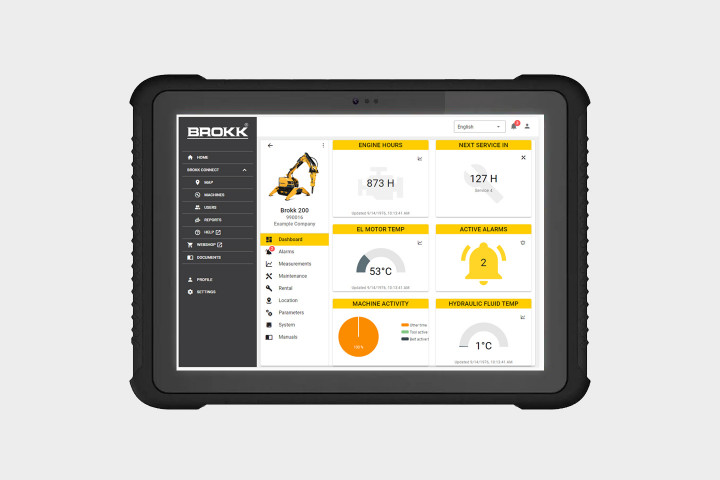 NEW: DOCUMENTS
Technical documentation. The document library contains a variety of documentation; ranging from manuals, to technical data and diagrams.
Instant access. All technical documents related to your robots are gathered in one place, making important information available at the tip of your fingers.
Register all your robots. To optimize the usage of the document library, you can register your robots in My Brokk.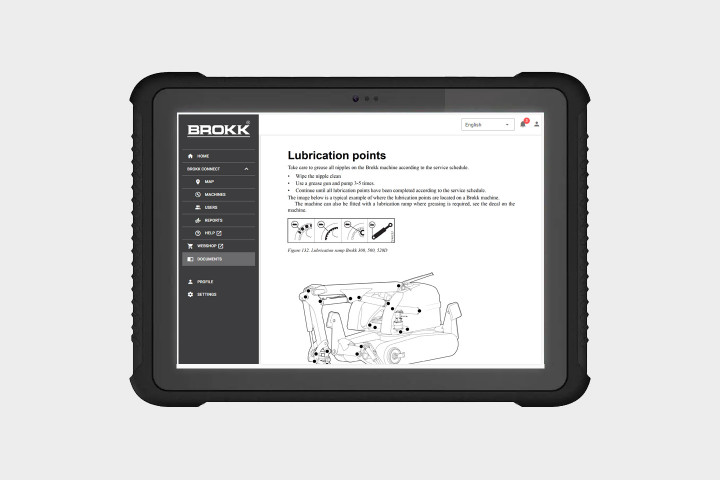 NEW: WEBSHOP
Complete assortment. The webshop in My Brokk allows you to view and order a full range of Brokk original spare parts and attachments online.
Easy to order. Our new webshop makes it easy to find the right parts for your robots and the prices are in local currency.
Original spare parts. All the products available in the webshop are high quality original spare parts from Brokk, which is always a condition for the robot's warranty to apply.
Reliable delivery. By using the webshop, the purchase process is made quicker and delivery times are shortened.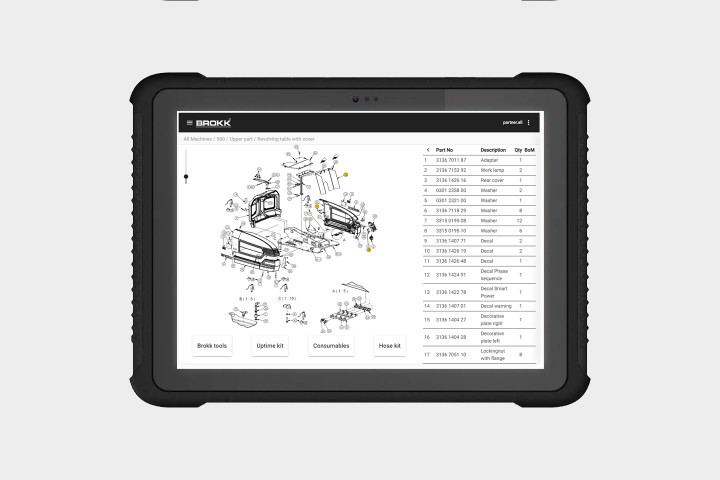 ARE YOU READY? LET'S GET STARTED!
My Brokk is available to anyone with a Brokk robot – discover the benefits of the portal for your business. You are only a few simple steps away from getting started! CONTACT YOUR LOCAL BROKK-DEALER to register today.