Vacuworx Vacuum lifting systems
Vacuworx lifting systems are designed to minimise harm and improve efficiency.
Offering the perfect solution for smaller lifting challenges on the job or in the shop. Engineered for both interior and exterior applications, these battery-powered lifters can go to work anywhere! They are ideal for applications where no power source is available and are designed to lift concrete, marble, granite, metal, steel, iron and thick plastic materials. The lifters can be attached to a range of host machines to maximise your job site efficiencies.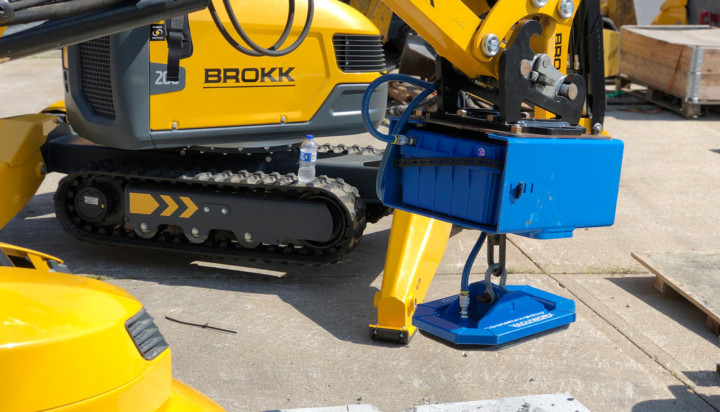 | | |
| --- | --- |
| Model | Capabilities |
| PHD/ PS 1 | Offering the perfect solution for smaller lifting challenges on the job or in the shop. Engineered for both interior and exterior applications, these battery-powered lifters can go to work anywhere! The PS 1 can lift up to 0.8 tonnes. The new PHD features a twin pump design, remote control and a lift capacity of 1.13 tonne. The PHD/PS 1 is designed to lift concrete, marble, granite, metal, steel, iron and thick plastic materials |
| SL 2 | The ultimate attachment — lightweight and extremely versatile, the system has been updated with improved hydraulic systems and modular pads to work with more machines and for more applications! Featuring all-aluminium construction, the patent-pending design runs off the host machine's hydraulic system and can be easily attached in minutes to lift steel plate, saw-cut concrete, granite and marble slabs, landscape pavers and more! In addition, quick-connect hydraulic hoses make switching between attachments fast and easy so you can maximize productivity on the job. Perfect for floor, sidewalk, driveway, road and landscaping projects. The SL 1 has a lift capacity of 2 tonne and weights only 57 kgs! It is designed to lift concrete, marble, granite, metal, steel, iron and landscape pavers |
| CM 3 | Take skid steer attachments to a new level! Easily adaptable to multiple applications and host machines, the CM 3 features rugged all-steel construction to handle materials up to 3 tonne. The first vacuum lifting solution of its kind, the patent pending CM 3 is adaptable to a wide variety of material handling needs, allowing larger skid steers and track loaders to lift concrete slabs, steel plates and pipe with ease. The CM 3 has a 3 tonne lift capacity. |
Additional information can be found at www.vacuworx.com
For more information please contact sales@brokk.com.au