Leading suppliers of demolition robots for the construction industry
Brokk is the world's leading manufacturer of demolition robots, and there is no match when it comes to their application within the construction industry. With more than 10 million hours of operational experience, Brokk robots are engineered with the latest robotic technology to perform several demolition tasks across job sites.
Brokk remote-controlled demotion robots are safer and more efficient and outperform traditional demolition methods such as concrete sawing, handheld tools and excavators.
Our three-part arm system provides extraordinary flexibility and reach and can be equipped with various attachments to maximise the machine's versatility across job sites. For example, when fitted with the Darda Crusher, the silent electric-powered hydraulics allows workers to carry out demolition within urban settings where noise restrictions may be in effect. Brokk breakers provide extraordinary strength, with less noise and vibration than other breakers on the market and are made for maximising efficiency. Our full range of attachments is available here.
The machines are lightweight and agile, suitable for various job sites, and can be manoeuvred across building floors via elevators and stairwells and over site debris.
Brokk UpTime, our after-sales service, provides the personalised support and training you won't get with any other supplier on the market. We provide:
Brokk Operator Training which provides users with the knowledge needed to operate and safely master your Brokk machine.
Original spare parts are designed for optimal performance and to maximise your Brokk product life.
A comprehensive service agreement that provides peace of mind regarding service and maintenance
Service centres in Sydney, Melbourne and Adelaide.
Partner Products
Brokk Australia also represents the following products in Australia as a distributor. Our partner products complement our demolition robots or other host machines either as attachments or as stand alone products to minimise harm and maximise efficiencies on the job site.
Vacuworx vacuum lifting systems
Sherpa electric mini loaders
Twinca electric mini dumpers
Darda Attachments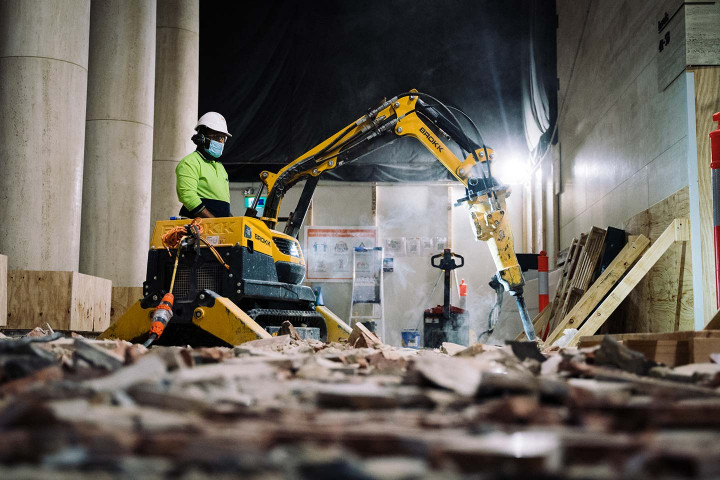 Reasons to choose Brokk for construction industry projects
EFFICIENCY & ECONOMY
More powerful and flexible than jackhammers or excavators and more efficient than cutting & coring.
SAFETY
Remote control demolition enables a safer and more ergonomic working environment
SILENT
The electric powered Brokk is perfect for noise and vibration sensitive areas
AFTER SALES
Our after-sales service, training and support is the best on the market
VERSATILITY
A wide range of different attachments means the the Brokk is useable across multiple job sites