Two Approaches for More Efficient Refractory Removal
Optimizing routine maintenance procedures is important for a successful processing operation. Refractory removal is unavoidable, but that doesn't mean it has to be unsafe or time consuming.
Manual methods can mean shutting down for days or weeks and require large crews wielding heavy handheld equipment. However, some facilities are updating their processes with the help of robotic equipment. These machines keep workers out of the most dangerous situations and significantly speed up the refractory removal process.
Both Hydrodemolition and remote-controlled demolition increase safety and productivity over manual refractory removal methods, but choosing which process will offer optimal results depends on several factors, including the size of the vessel and the environment. Here are some points of consideration to help you make the right choice.
Wet
In general, Hydrodemolition is the preferred method for refractory removal since the high-pressure water jets don't damage the mounting surface. At 18,000 psi, Hydrodemolition equipment can provide 100 times the productivity of handheld equipment, removing 9.5 cubic feet of refractory per hour compared to just .1 cubic feet with a 15-pound pneumatic hammer. The use of water also reduces airborne silica dust.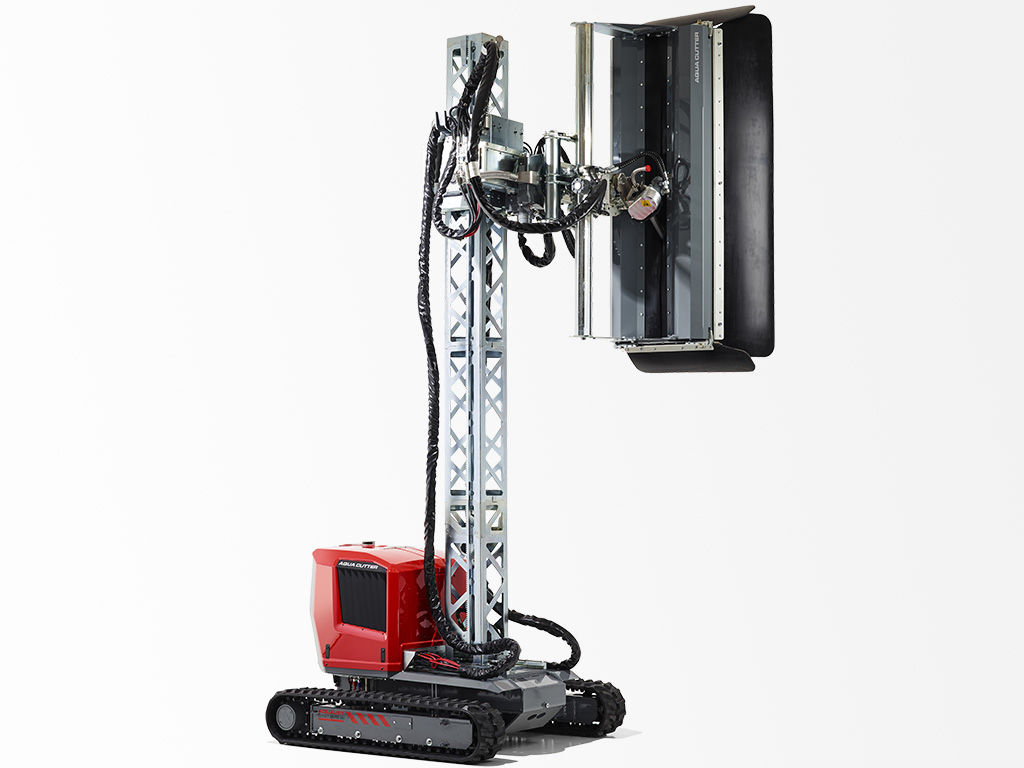 Aquajet's 410 series, along with the Aqua Spine, is ideal for refractory applications. The robot's compact size and innovative mast system give it the versatility to work in tight spaces with extended reach in horizontal, vertical and overhead applications. Additionally, the unit can be broken down to a third of its original size by disconnecting the wheeled power control module from the tracked portion for an even more compact robot capable of accessing tight, inhospitable environments.
Aquajet's Ergo System can operate in all positions – horizontal, vertical or overhead – and offers four times the power of a hand lance in a compact footprint. It can easily operate in the most confined spaces, making it an efficient choice for automated refractory removal in boilers or other vessels. In a recent application, a heating plant in Sweden was able to use the Ergo Climber attachment on existing scaffolding in their boiler to quickly remove refractory. The Climber attaches to standard scaffolding pipes and uses spring-loaded, high-friction rollers that connect to a lightweight roller beam with just one bolt to deliver powerful Hydrodemolition forces for systematic concrete or refractory removal. In this case, the Ergo Controller and a small Aqua Power Pack 270 high-pressure pump were positioned outside the boiler with hydraulic hoses supplying oil to the Climber through a manhole. The automated Ergo System was able to precisely control refractory removal.
Dry
While Hydrodemolition offers some significant benefits for refractory removal, perhaps the biggest drawback is the need for elements to be completely cooled before introducing water. For kiln maintenance or other applications where waiting for cooldown eats up valuable time, remote-controlled demolition machines allow facilities to begin tear-out while equipment is still warm.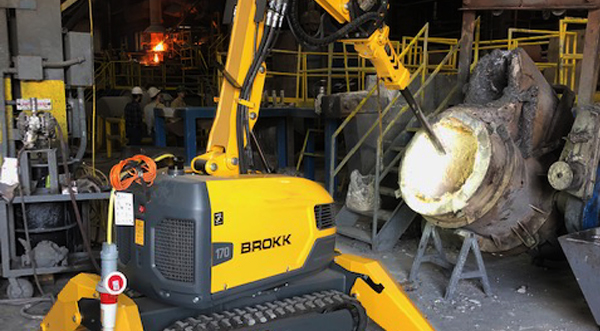 Using a Brokk 110 or 170, operators can remove coating or debrick at speeds of up to 33 feet (10 meters) per hour. These electric machines utilize Brokk's revolutionary new SmartConcept™ system, which ensures improved performance and uptime even in refractory removal's harsh conditions. With an operating distance of up to 984 feet (300 meters), operators remain safe from falling debris and harmful silica dust. Extended reach and a wide range of movement also improve refractory removal efficiency. The Brokk 170's three-part arm extends to 16 feet (4.8 meters) vertically and 14 feet (4.4 meters) horizontally. It also features 360 degrees of continuous rotation. Additionally, a variety of attachments —including breakers, buckets and drum cutters — allow operators to use the Brokk machines for cleanup tasks, increasing versatility.
Making the Right Choice
Whether you choose the wet or dry method, there's no denying the productivity and safety benefits robotic machines provide for refractory removal. Contact our team for more information on Aquajet and Brokk options to revolutionize your removal process.