Brokk, the world's leading manufacturer of remote-controlled demolition machines, recently opened the doors to their relocated Stanhope, New Jersey distribution and service facility. The new building is in the same industrial complex as the original location but offers the company 33% more space for increased inventory. Additionally, the added room allows the Stanhope team to offer Brokk demonstrations onsite.
"As Brokk's presence in the United States has grown, so has interest in seeing the power and precision of our machines firsthand. It's an exciting position to be in," said Lars Lindgren, president of Brokk Inc. "Part of the decision to move our Stanhope facility was the need to increase inventory to better meet our customers' needs, but in addition, it gave us the opportunity to add an onsite demonstration area. The move allows us to better support our customers across the U.S. and Canada and provides a perfect setting to experience the intelligent demolition power Brokk offers."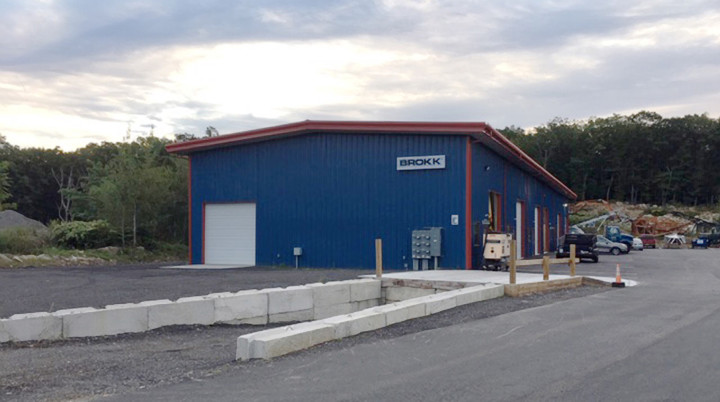 The 9,600-square-foot (892-square-meter) facility, has allowed the Brokk team to increase their inventory by 50%. The facility stocks nearly every Brokk model, including multiple 110, 170 and 200 units — popular in urban demolition where minimizing floor load is a high priority. The new Stanhope facility also stocks a range of Brokk attachments, including buckets, crushers, grapples and breakers. The additional space offers the Brokk specialists better maneuverability for loading and unloading equipment, pre-delivery equipment inspections and maintenance, allowing them to optimize productivity and address customer needs more efficiently.
For contractors on the East Coast, the addition of an onsite demonstration area increases access to a first-hand Brokk experience. Now, visitors can easily see the benefits of remote-controlled demolition in common applications, including concrete crushing, breaking, and drilling.
The Stanhope facility currently offers select equipment servicing by appointment. In conjunction with the St. Joseph, Missouri Demonstration and Service Center and Monroe, Washington Headquarters, the new Stanhope facility allows Brokk specialists to apply a more locally focused approach when addressing customer needs – increasing productivity and shortening lead times.
Call 973-810-2681 for more information.