A Winning Combination of Descaling and Vertical Bricking Equipment
You've heard it said that what goes up must come down. It's a reliable saying in most cases. Industry professionals in the refractory maintenance business, however, face a different axiom: What comes down must go back up.
Refractory replacement can be a costly and time-consuming project. Cement and alumina plant managers face the unique challenge of maintaining preheater towers, which are a critical factor in the success and efficiency of a plant. Preheater tower maintenance can be an unwelcome drain on an operation's profitability, forcing long shutdowns as well as risking worker safety. Manual methods for removing build-up and refractory tear-out are dangerous and inefficient. Plant managers face similar challenges finding an ideal vertical bricking solution for refractory replacement and are continuously looking for better solutions.
Challenges of Current Methods
The vertical orientation of preheater towers is tied to safety challenges and work process inefficiencies, which makes getting the job done quickly—not to mention cost-effectively—an uphill battle. For years, plant managers have lacked good options for handling the descaling and vertical bricking processes for their preheater towers. Manual methods for descaling require the assembly of scaffolding and use of workers with handheld tools. In other words, set up is slow and descaling is even slower. This is in addition to critical safety concerns about falling debris, silica dust and injury from prolonged use of vibrating handheld tools.
Manual methods for refractory installation in preheater towers offer many of the same challenges. Workers once again find themselves facing fall risks on scaffolding, spending valuable time preparing for the work, and counting every minute of lost production due to plant shutdown.
The Long Arm of the Brokk
The BROKK DESCALER is designed to not only remove workers from dangerous situations related to kiln maintenance, but also to improve plant efficiency and profitability.
The Descaler evolved from the standard Brokk robot and is modified to meet the needs of preheater tower applications without compromising power. It features a telescopic boom that is extendable by up to two sections, allowing for descaling in vessels up to 9.5 meters in diameter. The machine is remote-controlled, keeping the operator a safe distance from silica dust and falling debris. The operator can view their work through hatches outside the vessel, allowing for precise, controlled demolition. On top of all this, the descaler prevents workers from having to use pneumatic tools for long periods of time, reducing worker injury and fatigue.
While increased safety is hard to miss as a major benefit of the Brokk Descaler, cement plant managers soon realize the benefits to their bottom line from increased productivity and reduced shutdown time. The Descaler requires considerably less setup time than traditional methods, largely because it does not require the assembly of scaffolding and safety nets. Plus, it is exponentially more productive than handheld tools that lack the power, control and endurance of a robotic machine.
Thanks to the reduced set up and tear down time and increased productivity, use of a Brokk Descaler can reduce the time required for refractory break-out by well over 100 hours on a typical preheater tower. And because the Brokk Descaler method doesn't require workers to physically be in the vessel, work can start as soon as the tower reaches 176 F (80 C).
Check out how the Brokk Descaler has worked at LarfargeHolcim's cement facility in the UK.
Safe and EZ Vertical Bricking
While the Descaler offers an innovative solution for material removal in vertical vessels, the EZ Lift Suspended Platform from Bricking Solutions takes the baton and pioneers a faster and safer method of bricking back up. In addition to preheater towers, the platform helps with brick work in virtually any vertical vessel, including lime kilns, pre calciners, cyclones, Isamelt furnaces and more.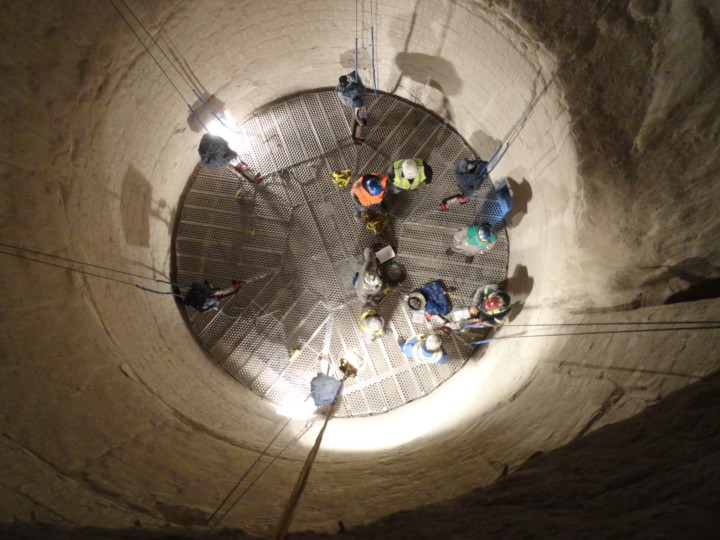 Traditional vertical bricking methods require assembly of scaffolding to get personnel and equipment into position to do the work. Aside from being time-consuming to assemble and tear down, scaffolding can pose a fall risk to workers, adding stress to an already taxing process.
The EZ Lift Suspended Platform offers solutions to these challenges. It is designed to be a flexible and maneuverable work platform for personnel and equipment, taking only an hour on average to assemble on the vessel floor. The suspended platform is composed of high-strength aluminum components in a modular design. No individual part is heavier than 40 pounds, streamlining assembly and making life easier on the workers involved. Once the work begins, an experienced crew can achieve productivity rates of up to one meter of brick per hour.
In addition to time-saving benefits, the EZ Lift Suspended Platform far outshines traditional methods in safety and usability. The platform is hooked to the ceiling and suspended at the proper level, using electric hoists to effortlessly raise and lower the platform as needed. The suspended platform is available in four size ranges with custom ranges available upon request. That allows adjustment to the size of the vessel and leaves no more than 6 inches between the platform edge and the vessel wall, preventing worker fall hazards. In addition, the platform comes standard with fall guards that further ensure workers are safe from fall risks.
A Winning Combination
The Brokk Descaler and the EZ Lift Suspended Platform from Bricking Solutions form the ideal team for taking on material removal and vertical bricking in preheater towers and other vertical applications. Serious steps forward in safety and productivity place both pieces of equipment far ahead of traditional methods, giving cement plant managers new options to keep their operations running smoothly and profitably.
Learn more about the products that can revolutionize your preheater tower maintenance. Contact Jeff.Keeling@brokkinc.com about the Brokk Descaler and BRICKING SOLUTIONS about the EZ LIFT SUSPENDED PLATFORM.